The Dome Seating Chart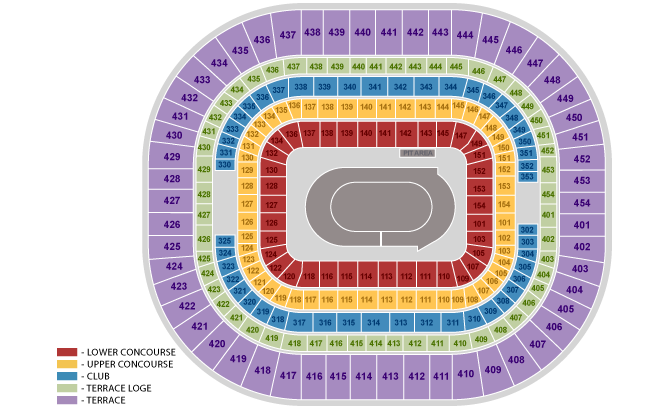 NOTE: Seating layouts can change depending on the type of event. The individual seating chart for the event can be seen when selecting your tickets.
The stage at the Dome at America's Center is often most placed on the North end of the stadium. For concerts, there are 4 levels to the stadium generally; the floor (field area), concourse level, club level, and terrace level.
Seating configurations vary based on events. Thus, it is always best to check your seating chart before purchasing any tickets.
Best seats for end-stage: The floor
Sections Field A1, Field A2, Field A3, and Field A4 are a part of Floor Seating. These seats offer some of the closest views of the performers.
For many concerts, floor sections are added or removed. These performer-specific adjustments may alter the floor layout and the views from each floor section.
Seats in sections Field A2, Field A3, Field A4 and Field A5 are among some of the best options for impressing a guest at The Dome at America's Center. These are the closest seating to the stage for an end-stage concert. You will have head-on views of the performance.
Best seats for center field stage/game: Level 100
Seats in sections 111, 112, 113 and 141 come highly recommended for seeing the stage at The Dome at America's Center.
In fact, these seats may even be great for end-stage performances as the field may be overcrowded and you may not even have enough space to move around.
Grab your tickets today and choose your desired seats. Visit the The Dome schedule to select your event.
To view our ticket & refund policy please check the ticket information page.